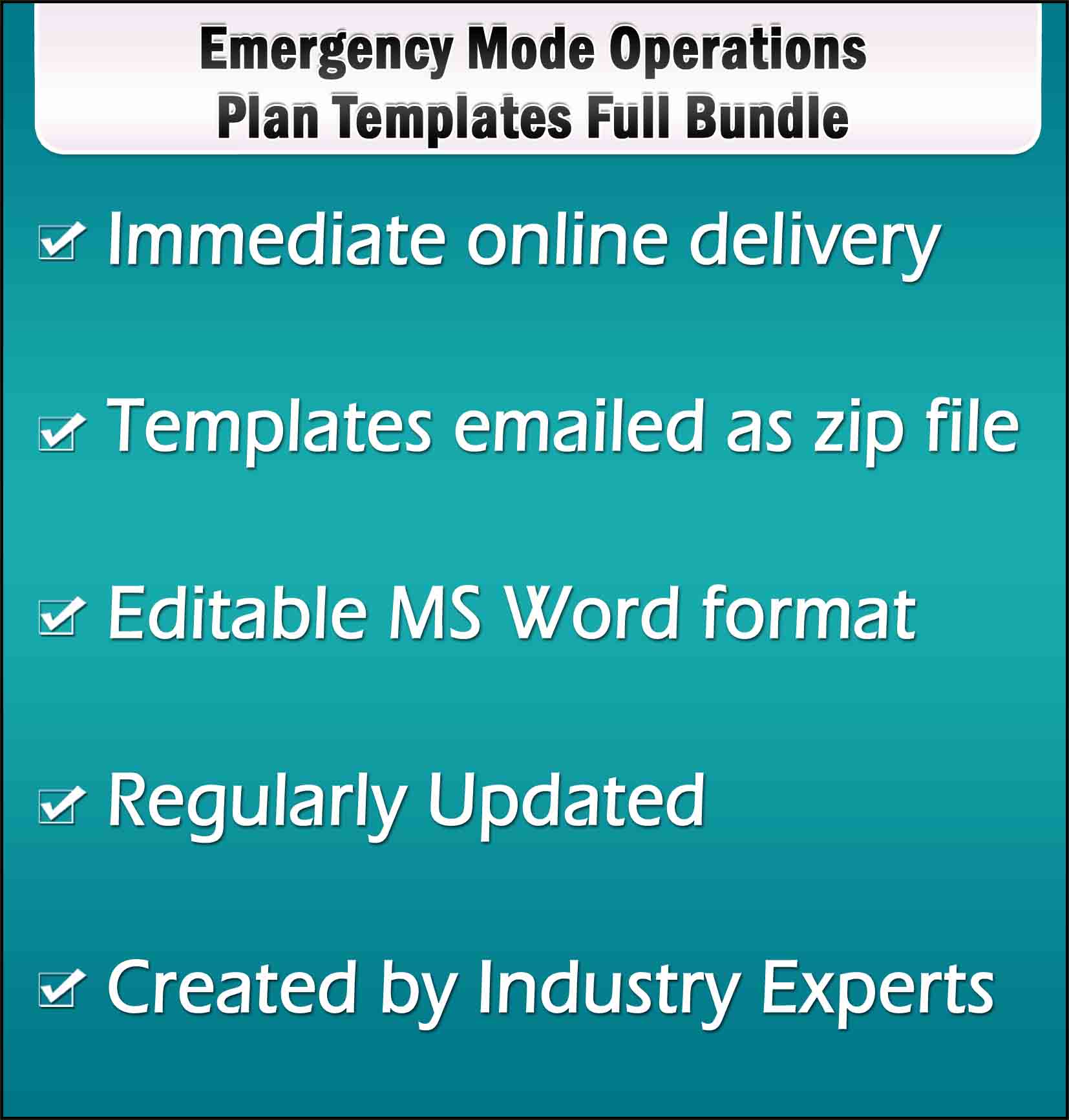 This main document contains the non-business unit activities that need to be completed in support of Emergency Mode Operations procedures.  The following sections contain contact numbers, contact personnel, activation and notification procedures, an overview of recovery teams, vendor contact information, and recovery locations.
The detailed recovery procedures for all business units (departments) are located in the appendix since these recovery plans are modified on a regular basis due to periodic configuration changes in the company's Business Environment.  Furthermore, with continual changes to the daily business processing activities and operations, personnel, resources, and vital documents such as the detailed individual Business Resumption Plans for each department will be updated on a regular basis to ensure changes in the business processing (operations) environment are reflected in the detailed Business Resumption Procedures.
Objectives
The objective of this plan is to document critical resources and personnel requirements to protect the company if all or parts of its operations or computer services are interrupted by an outage or disruptive event.  Information such as; critical business processes, technology components required, manual workaround procedures, identified alternate recovery sites, and key personnel contact information will be documented.
To make this plan functional, each member of the business unit (department) must be trained in their respective recovery responsibilities, overall company emergency management procedures (Crisis Management), and Disaster Recovery (Technology) Plans.  Each member shall have in possession an electronic copy or printed plan that is not located at the worksite.  This copy can be kept at the employee's home, in the offsite storage location, another facility, etc.
Table of Contents
Confidentiality Statement
Plan Maintenance
Plan Exercise
Plan Location
Plan Distribution
Media Policy
EXECUTIVE SUMMARY
Definition of a Disaster
Disaster Declaration Criteria
QUICK REFERENCE GUIDE
SCOPE & OBJECTIVES
Scope of This Plan
Objectives
Assumptions
Corporate (applies to every department within the company)
Known Exposures
EMERGENCY MODE RESPONSIBILITIES
BIA & RA EXECUTIVE SUMMARY
RECOVERY STRATEGY
Recovery Strategy
Business Unit Recovery Strategy
DISASTER DECLARATION PROCEDURE
Declaration Authority
NOTIFICATION PROCEDURES
Notification & Activation Team
Department Notifications
MANAGEMENT TEAM & TASKS
Management Team
PLAN CERTIFICATION
Plan Certification
APPENDIX ITEMS
Appendix A:
Appendix B:
Appendix C:
Find more information on this Click Here
This Data Center Recovery Plan template suite includes Emergency Mode Operations (EMOP) plan following templates and guides:
Data Center Recovery Plan Suite with EMOP Plan Templates Suite
Cost: $297
Buy Data Center Recovery Plan Suite with EMOP Plan Templates Suite Now
To view a specific section of this document, please contact us at Bob@training-hipaa.net or call us at (515) 865-4591.