Why does your organization need Contingency Planning?
A multitude of laws and regulations specify or imply requirements for Business Continuity Plan (BCP) and Disaster Recovery Planning (DRP). These requirements vary among industry sectors, affecting the development, focus, and execution of the Business Continuity Program.
As per a research document published by Gartner in July 2005, Gartner analysts looked at four industry sectors — healthcare, government, finance, and utilities— to determine which laws and regulations most influenced BCP/DRP in these sectors. Our Contingency Plan templates can help you to comply with regulations and standards like HIPAA, JCAHO, FDA, SOX, FISMA, COOP & COG, FFIEC, Basel II, NIST, and ISO 27002.
Contingency Plan Requirement for HIPAA
The HIPAA Security Rule 164.308(a)(7)(i) identifies Contingency Plan as a standard under Administrative Safeguards. Contingency Planning means the overall process of developing an approved set of arrangements and procedures to ensure your business can respond to a disaster and resume its critical business functions within a required time frame objective. The primary objective is to reduce the level of risk and cost to you and the impact on your staff, customers, and suppliers.
Who can use Contingency Plan Templates Suite?
Our HIPAA Contingency Plan templates are set up in a manner that makes them helpful to many different covered entities. There are two main categories of companies that we assist.
The first category includes nearly all healthcare-focused entities that will benefit from the HIPAA Contingency Plan Template Suite and Business Continuity Program. These include hospitals, pharmacies, specialty groups like laboratories, rehabilitation, and dialysis providers, and home health and long-term care agencies. Any business entity that works with protected health information in connection with healthcare organizations can use the Contingency Plan Templates Suite.
While a company might not deal with protected health information, the IT department within that company must still retain proper security over their customer and worker information. For that reason, the second category includes a wide variety of companies, and specifically the IT teams within those companies. Examples include law firms, security consulting agencies, financial advisors, and educational organizations.
Business Continuity Program/Plan
The objectives of the business continuity program section are to counteract interruptions to business activities and to support critical business processes from the effects of major failures or disasters.
Jumpstart your HIPAA Contingency Plan project
While becoming HIPAA compliant is a challenge, our business continuity program, and HIPAA templates make this process more efficient for you. We offer over 100 customized documents that will simplify the task of reaching HIPAA Security Rule standards. The chart below will clarify exactly which HIPAA Citations the Templates will help you a jumpstart.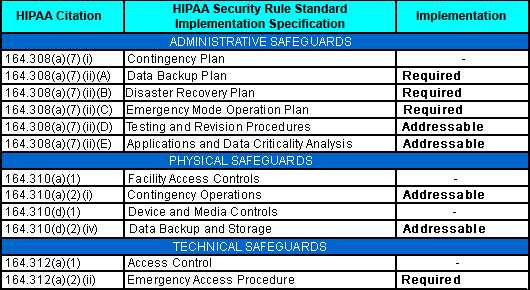 Return on Investment on HIPAA Security Contingency Planning Templates Suite
Becoming HIPAA compliant can take up more of your company's time than you may realize. The cost of paying your employees to create your contingency plan and the hours they will not be doing other work far outweigh the cost of purchasing our templates.
The following table gives an example of how much time and money you may save by using our templates and sample documents.

CBCP Consultant*: Certified Business Continuity Professional (CBCP)
To ensure that you will benefit from our templates, you can purchase the templates in either Microsoft Word or Excel files. This means you may customize what we send you by conveniently adding, changing, or deleting content as needed.
Price and License for templates
You have two options when it comes to purchasing our templates. If it is convenient for your company, you may purchase individual templates. Our second option is to purchase the entire template suite, which we recommend because of the close connection between many of the templates.
Our one-location license for a full template suite is priced to sell. The package includes over 100 templates that amount to a value of $1500. We currently offer this package for $1200 saving $300.
When you buy our templates, you are granted a "one site license." If you are in need of multiple site licenses, please call to arrange a discounted price.
Price: $1200
Refund Policy (Opens in New Window)
View HIPAA Security Policies and Procedures
In order to purchase our templates, or seek answers to any questions, please contact us at Bob@training-hipaa.net or call (515) 865-4591.
HIPAA Contingency Plan
Rated 4.7/5 based on 839 reviews