Why create HIPAA Privacy Policies for Covered Entity and Business Associate?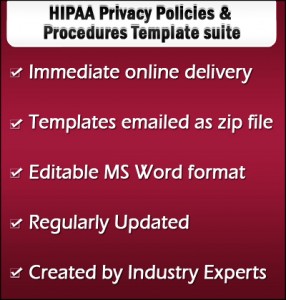 Covered Entity and Business Associate are required to establish effective HIPAA Privacy Policies and Procedures,ensuring that employees and sensitive information are protected and secure. HIPAA policies are implemented daily, therefore a necessary component for all health care businesses is to establish an effective arrangement of policies and procedures that govern everyday activity- enabling health care professionals to streamline their practices, and hold employees and administrators accountable for maintaining the privacy of PHI.
HIPAA Privacy Policies and Procedures templates are updated with the HITECH act of 2009 and the Omnibus rule of 2013.
"Essentially, a covered entity is required to develop and implement policies and procedures appropriate to the entity's business practices and workforce that reasonably minimize the amount of protected health information used, disclosed, and requested;" – HIPAA Privacy Rule 45 CFR Part 160.
Who can use HIPAA Privacy Policy Template Suite?
Supremus Group, LLC offers two different HIPAA Private Policy Template Suite one for covered entity and other for business associates. Each covered entity (refer to home page to see which kind of entity you are) is required to implement Privacy and Security policies & procedures to maintain a viable health care business that is equipped to handle emergency situations, everyday operations, equipped with unique business practices and procedures.
Health care businesses can cut their leg-work in half by implementing pre-established privacy and security policies & procedures created by Supremus Group, LLC's templates. ; ensuring that PHI is protected in every department and at every level. Health care businesses are offered 57 essential documents that guarantees to save health care professionals time and money while establishing HIPAA privacy policies and procedures in covered entity and business associate.
Many business associates may not need all the Privacy policies that covered entity may use based on try of services offered, PHI received and level of exposure they will have to determine which privacy policies will be require for their business.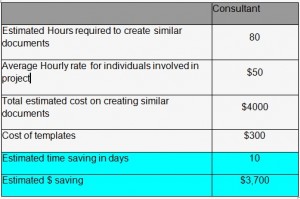 How does the HIPAA Privacy Policy Templates Suite Save Money for Covered Entity and Business Associate?
Supremus Group, LLC eliminates the necessity of beginning from scratch when creating HIPAA Private Policies, rendering hours of research, policy revisions and approvals a plight of the past. Covered Entity and Business Associate no longer need to dedicate their personnel the task of creating corporate policies, to which, most companies lose money while these polices are crafted by professionals unaccustomed to establishing privacy policies. Table 1 illustrates how businesses can transform their practices into lucrative policy professionals without the internalized struggle of expending unnecessary funds or manpower, and addresses how health care business can save money with HIPAA Privacy Policy and procedures Templates.

Price:$300
The templates are available in our online HIPAA store for purchase. All the templates come in Microsoft Word/excel files so you can add, change and delete content as required to complete your HIPAA privacy policies.
Questions? Concerns? All inquiries concerning HIPAA Privacy Policies may be directed to Bob@training-hipaa.net or call on (515) 865-4591