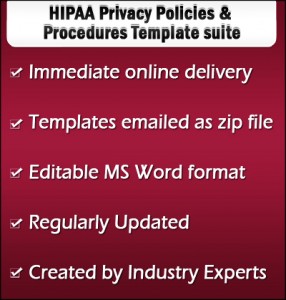 Following are the 57 HIPAA Privacy forms, policies, and procedures included in the HIPAA Privacy Policy & procedures template suite. These templates are updated for the HITECH act of 2009 and Omnibus rule of 2013. The policies can be used by any covered entity & business associate. All policies are available in MS Word format and can be easily customized as per your requirements. Each template is presented in a standard format reflecting critical organizational functions to consider in HIPAA remediation.
HIPAA Privacy Policies cover areas like:
1) General policies regarding use and disclosure of PHI
2) Minimum necessary rule for use and disclosure of PHI
3) Patient rights regarding their own PHI
4) Uses and disclosures not requiring patient authorization
5) Special cases for restriction of uses and disclosures of PHI
6) Organizational issues and safeguards
The templates suite includes the following HIPAA Privacy Form, Policy, and procedures.
Accept Access Request
Accounting for Disclosures
Acknowledgment of Receipt
Amendment to Record Form
Authorization for Release of Protected Health Information
Authorization To Use Disclose Protected Health Information
Business Associate Agreement
Business Associate Contracts and Other Arrangements
Complaint Process
Data Use Agreement Template
De-identified Information and Limited Data Sets
Denial Access Request
Denial Request to Amend Form
Disclosure Accounting Log for Medical Information
Disclosure of PHI with and without authorization Template
Disclosures Record Form
Document Retention Requirements
EHR accounting of disclosures
Employee Confidentiality Agreement
Execution of Business Associate Agreements with Contracts
Health Plan Notice of Privacy Practices
HIPAA Accept Amend Request Form
Identifying PHI and Designated Record Sets
Minimum Necessary
Multi-Organization Arrangements
Notice of Privacy Practices
Patient Right to Access PHI
PHI Release by Whistleblowers
Privacy Officer
Receipt of Payment when Disclosing PHI
Release for Abuse Neglect or Domestic Violence
Release for Confidential Communications
Release for Fundraising Purposes
Release for Health Oversight
Release for Judicial or Administrative Proceedings
Release for Law Enforcement
Release for Marketing Purposes
Release for Public Health
Release for Research Purposes
Release for Specific Government Functions
Release for Workers Compensation
Release of Information for Deceased Patients or Plan Members
Release of Information for Legal Representatives
Release of Information to a Minor
Release of Information to a Minor's Parents
Release of Information to Friends and Family Members
Release of Psychotherapy Notes
Release to Avert Serious Threat to Safety
Request Confidential Communications Template
Request Restriction
Request to Amend Patient or Plan Member Record
Requests for Restriction policy
Required PHI Disclosures
Right to Object to Release for Certain Purposes
Safeguarding PHI
Training Requirements
Workforce Sanctions
The templates are available at our online HIPAA store for purchase. All the templates come in Microsoft Word/excel files so you can add, change and delete the content as required to complete your HIPAA Privacy policies.
If you have any questions, please feel free to contact us at Bob@training-hipaa.net or call on (515) 865-4591
HIPAA Privacy Policies, Forms & Procedures
Rated 4.8/5 based on 1635 reviews