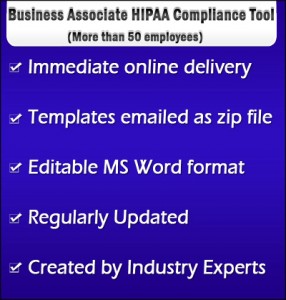 Supremus Group has different HIPAA compliance forms and templates to help business associate get HIPAA compliant and jumps start your HIPAA compliance projects. Below you will find all the HIPAA compliance tools which will help your organization with your HIPAA compliance project requirements and save you lot of time of your team and thousands of dollars.
We also offer HIPAA Certification for Business Associate and products used by healthcare industry. Many Business Associates are request a proof of your product being HIPAA complaint or your company achieving HIPAA compliance before entering into business with them. Our certification will help you in proving your compliance status.
For details on how to achieve HIPAA compliance seal for your company, services and products, feel free to contact us at Bob@training-hipaa.net or call (515) 865-4591.
View HIPAA Security Policies and Procedures
Client Testimonial
We purchased the small business associate template suite for our business. It is extremely helpful in trying to figure out how to become compliant. We are not a doctor's office, hospital, or even a third party medical biller – although any one of those may be our customer. We didn't have anyone in house the knew much about HIPAA laws and our attorney told us to look for some outside help. Outside help was extremely expensive – we decided to go with the templates from Supremus and although we aren't through all of them yet, (Its a lot) – so far we are pleased.Centron Data Services
Jay Merkins
HIPAA Compliance Forms
Rated 4.8/5 based on 562 reviews