Certified HIPAA Security Expert (CHSE) is one of the only HIPAA credentials which is focused on HIPAA Security regulation and implementation of the security rule. This certification is for the HIPAA security compliance team members who are seeking extensive & in-depth HIPAA training on security rules and the next steps for HIPAA security compliance. There is NO prerequisite for taking this certification course; you can directly take this level without taking any other courses.
This credential is recommended but not limited to:
Healthcare provider & Payer security compliance employees
IT Managers
IT Staff
Security Auditors
Security Consultants
Security Lawyers involved in health care
Network Manager and engineers
Database administrators
Software Developers
Consultants who provide security advice to health care organizations
We do encourage individuals interested in this credential to give us a call so that we can offer necessary guidance on the most appropriate course for their career objectives.
We also recommend that if you are associated with the USA healthcare industry and have any of the following credentials, then consider taking this course as it will complement your current credentials and will enhance your knowledge on how HIPAA affects your company.
MCSE: Microsoft Certified Systems Engineer
CCNP: Cisco Certified Network Professional
CEH: Certified Ethical Hacker
CPTE: Certified Penetration Testing Engineer
SSCP: Systems Security Certified Practitioner
CSSLP: Certified Secure Software Lifecycle Professional
SCNP: Security Certified Network Professional
To understand how you can use the CHSE logo and certificate to help grow in your career, visit this page of How to use HIPAA logo and certificate to your benefit. 
CHSE Certificate Test:
You are tested after you complete the full online course. You need to pass the 54 questions test (3 questions per chapter, 5 minutes maximum per chapter to answer the questions) with 70% to receive the HIPAA certification of Certified HIPAA Security Expert (CHSE).
This test is for 1 hour 30 minutes. You get 5 minutes per chapter to answer three questions from each chapter. Once you start the test you cannot stop it. This is a time-bound online test. You can take the test from anywhere and at any time. There is no need to schedule the test. Once you start the test, you need to finish it in the allotted time. If you need the timeline allotted per chapter then the test will stop right there.
| | |
| --- | --- |
| Test Passing Grade | 70% |
| Test Format | Multiple-choice questions |
| Testing Center | The time-bound online test can be taken from anywhere |
| Test Time | 1 hour 30 minutes (5 minutes per chapter) (18 chapters) |
| Retest Cost | $150 for each attempt (Consider buying the unlimited exam option at the time of registration $150. This is available only when you register for the course. It cannot be bought later on) |
| Certificate Validity | 3 Years |
Once you pass your test you can print out your certification immediately but if you do fail you will have to pay $150 to retake the CHSE test.
CHSE Practice Test:
CHSE Practice Test will help the student to practice on the test before proceeding for the final test. A student can re-take the practice test till they feel comfortable for the final exam. Find more about CHSE Practice Test
Retesting for CHSE test:
If you fail on the first attempt, you can take the second attempt without any waiting period. After you purchase the exam attempt, your test will be ready within one business day. We suggest taking the unlimited exam attempt option (only available when you register for the training course) if you don't want the pressure of passing on the first attempt. After you complete the exam, the grade will be calculated based on the total score of all exam chapters.
Certificate valid for 3 Years
Continuing Education Requirements After Getting Certified:
All certified professionals are required to take Cyber Security Awareness For Employees within 1 month of getting certified. You can take this training before or after getting certified. If you are a cybersecurity professional, you can request an exception (provide the reason why you should not take the training and provide your cybersecurity certification credentials) to take this training but you will have to complete the test. 
Course Name: CyberSecurity Awareness For Employees
Description: OCR is focusing on cybersecurity awareness for the covered entities and business associates after the FBI issued a warning for the healthcare industry. This training is a continuing education course needed for all HIPAA certifications (CHPSE, CHPE, and CHSE) professionals to maintain their credentials. This is a non-technical course and anyone can take it. There are no prerequisites for it.
Students learn how hackers use social engineering tools like spoofing, Deceptive Phishing, W2 Phishing, Search Engine Phishing, Pharming, Spear Phishing, Whaling / CEO Fraud, Vishing, SMiSHing, Dropbox Phishing, Google Docs Phishing, Image Phishing, Piggybacking, Dumpster diving, Eavesdropping and many more on company employees. With different types of Malware like Computer viruses, Worms, Trojan horses, Ransomware, Spyware, Adware, Scareware, Keylogger, etc., you want to be aware of threats around you. The overall goal is to protect you from financial losses, identity theft, and damage to your reputation caused due to breaches of security by criminals.
Cost: Included with the HIPAA training cost. You need to buy a Certified Cybersecurity Awareness Professional (CCAP) certification exam if needed.
View Course Outline of Certified CyberSecurity Awareness Professional Certification Training
Once a year all students will have to go through one hour of an update course (normal cost $99) which will include relevant regulation changes and other OCR/HHS activities on compliance and enforcement.
To maintain your HIPAA certification, you will continue taking updated courses when they are released. You will receive a new certificate when your certificate expires if you have taken all required updated courses. You will NOT be required to take any test if you have taken the updated courses regularly.
Certificate for Continuing Education Credits:
Students can buy a CE credits certificate for this course at the time of registration. You will receive 17 CE credits for this course through the Approved Provider of California Board of Registered Nursing after completing the course.
Method of Training to get CHSE Certified
Training Options to pursue Certified HIPAA Security Expert (CHSE) Credentials:
Sample of CHSE Certificate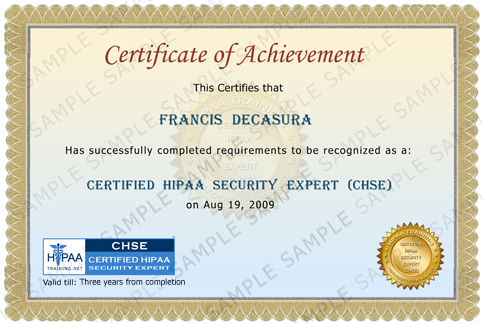 Certified HIPAA Security Expert
Rated 4.9/5 based on 1556 reviews