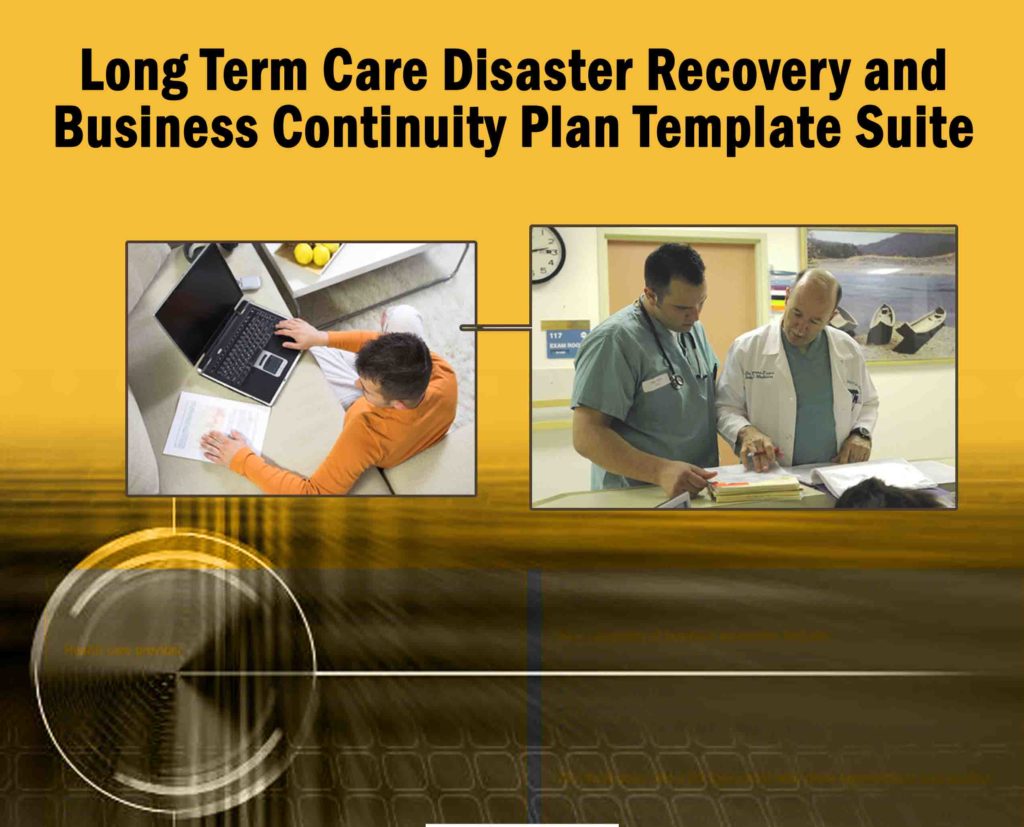 All Nursing Homes, Assisted Living, Continuing Care Retirement Communities, and Housing for Aging and Disabled Individuals are required to create Contingency Plan for disaster. This template suite focuses on identifying the issues that create hazards and defines the strategies for recovery. It covers the critical areas of contingency planning, loss prevention, and facility evacuation. It also focuses on employee training, computer and data protection, standby power, and self-inspection.
Our templates are designed to meet HIPAA & JCAHO requirements and will also help with business continuity requirements of the Sarbanes-Oxley Act (SOX), FISMA, ISO 27002, and FDA. This template suite contains guidelines, matrix, templates, forms, worksheets, policies, procedures, methodologies, tools, recovery plan, information on free resources, and standards in the following sections:
Business Impact Analysis (BIA)
Risk Assessment
Selecting and Implementing Recovery Strategies
Contingency Program Policy & Standards
Long Term Care Data Backup and Storage Plan
Long Term Care Disaster Recovery Plan (DRP)
Long Term Care Business Continuity Plan (BCP)
Long Term Care Emergency Mode Operation Plan (EMOP)
Long Term Care DRP & BCP Testing and Revision Plan
The Long Term Care Contingency Plan Template Suite comes as a Word & Excel document and has more than 1500 pages of content (including 772 pages of examples of different plans) which can be easily scaled based on the size of your organization. It is advisable to create a disaster plan based on the worst-case scenario.
Feel free to request a sample before buying.
Summary of Documents in Long-Term Care Disaster Recovery and Business Continuity Plan Template Suite
Sr. No

Pages in Document

Template Document

Sub Section: Conducting a Business Impact Analysis

Short Version Business Impact Analysis Template

Department Financial Impact Chart Template

Department Operational Impact Chart Template

Department Legal/Regulatory Chart Template

Combined Financial Impact Chart Template

Combined Operational Impact Chart Template

Combined Legal/Regulatory Chart Template

Combined People Over Time Chart Template

Sub Section: Conducting a Risk Assessment

Risk Assessment Worksheet

Executive Report Charts Template (5 Charts)

Sub Section: Selecting and Implementing Recovery Strategies

Sub Section: Sample Documents

Example of Completed Long Version BIA

Example of Completed Short Version BIA

Example of Completed App & Data Criticality Analysis

Example of Completed Business Unit Final Report

Example of Charts to support Business Unit Final Report (3 Charts)

Example of Completed Executive Management Report

Example of Completed Risk Assessment

Example of Completed Final Risk Assessment Report

Example Completed Risk Assessment Worksheet
Sub Section: Contingency Program Policy & Standards

Business Impact Analysis Standard

Risk Assessment Standard

Emergency Mode Operation Plan Standards

Business Resumption Planning Standards

Testing & Revision Standards

Data Backup Standard

Training & Awareness Standard

Instructions on how to update all standards

Sub Section: Appendix Documents (Help Guides / Templates)

Types of Contingency Plans
18 

11 

Data Backup Plan (DBP) development Guide

23 

18 

Application Recovery Plan Development Guide

20 

15 

Network Recovery Plan Development Guide

19 

16 

Database Recovery Plan Development Guide

19 

15 

Server Recovery Plan Development Guide

19 

17 

Telecom Recovery Plan Development Guide

38 

17 

Disaster Recovery Plan Development Guide

16 

18 

38 

Emergency Mode Operation Planning Standards

11 

Emergency Mode Operation Plan Development Guide

18 

Testing and Revision Program including following sub documents:

16 

10 

Business Unit Test Plan Development Guide

18 

10 

Technology Test Plan Development Guide

2 

Test Schedule

6

Business Unit Plan Audit Checklist

72

7

Application Plan Audit Checklist

73

6

Database Plan Audit Checklist

6

Disaster Recovery Audit Checklist

6

Network Plan Audit Checklist

6

Server Plan Audit Checklist

6

Telecom Plan Audit Checklist

1

Audit Notification Memo

1

Plan Audit Final Report Template

1

Test Notification Memo

1 

Type of Tests

Sub Section: Sample Documents

18 

Example of Completed Data Backup Plan

38 

Example of Completed Disaster Recovery Plan

23 

Example of Completed Application Recovery Plan

20 

Example of Completed Emergency Mode Op Plan including following sub documents:

42 

Accounting EMOP

37 

BIOMED EMOP

38 

Corporate Communications EMOP

37 

Emergency Services EMOP

38 

Facilities & Security EMOP

38 

Human Resources EMOP

38 

Laboratory EMOP

38 

Materials Management EMOP

37 

Pharmacy EMOP

36 

Surgery EMOP

14 

Example Business Unit Test Plan

16 

Example Technology Unit Test Plan

2 

Example Test Schedule

1

Example Audit Notification Memo

6

Example Business Plan Audit Checklist

2

Example Final Audit Report

1

Example Audit Follow-Up Memo

2 

Example Test Notification Memo

Total Cost to buy 103 templates (1612 pages) : $1200       
Long Term Care Disaster Recovery Plan
Rated 4.8/5 based on 79 reviews